11 Years of Arboriculture & Urban Forestry Programmes, 2008-2018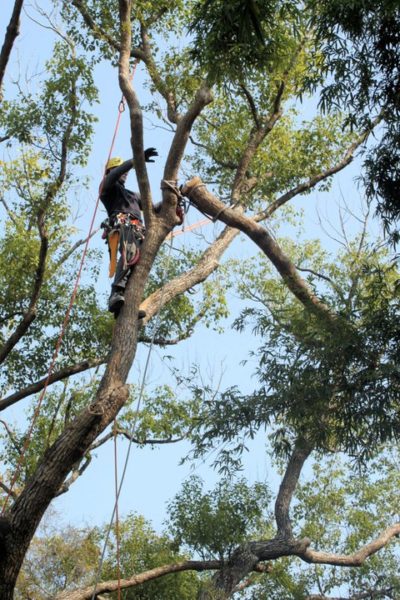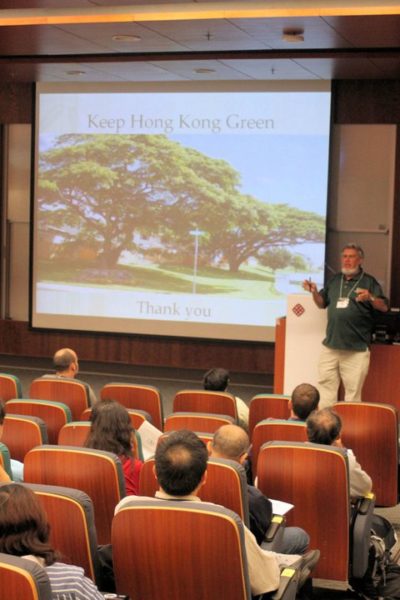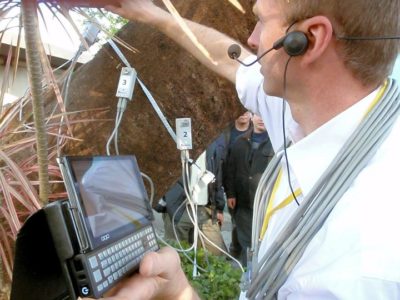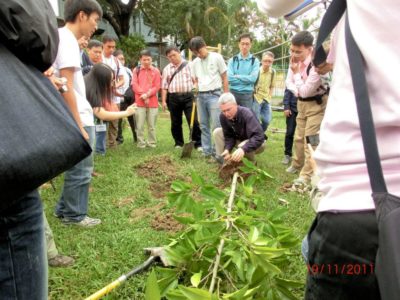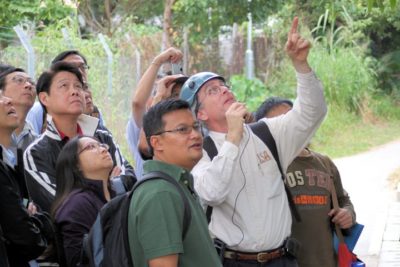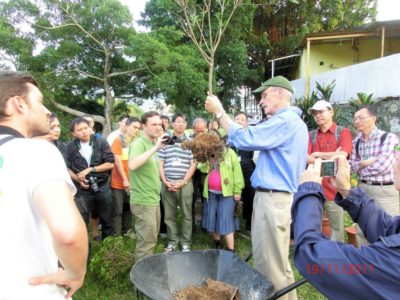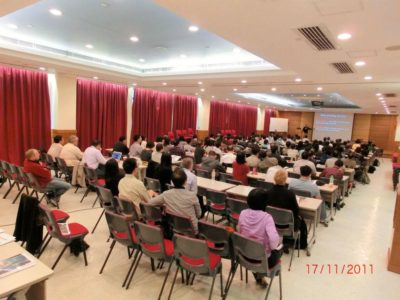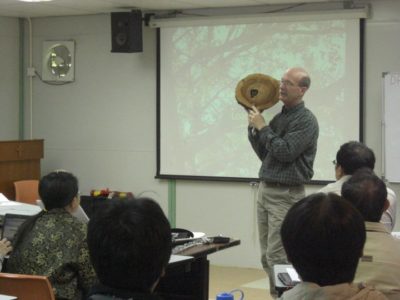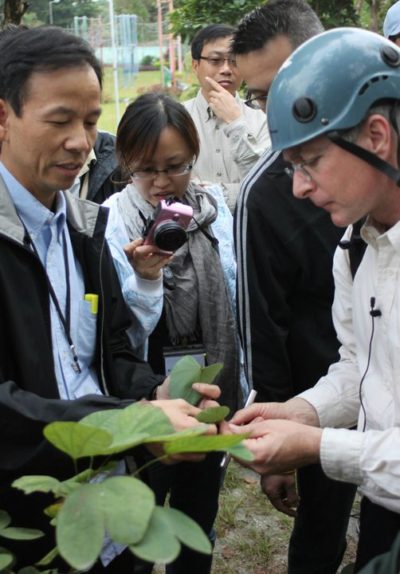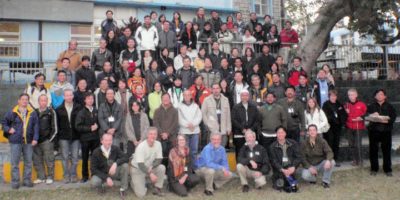 IASHK: International Arboriculture Summit (Hong Kong)
Air, Space, Sun, Soil & Water – Key Elements of a Healthy Tree

Venue: The Institute of Vocational Education (IVE), Shatin Campus

Hosted by: IASHK: Institute of Arboriculture Studies

Co-Organizer: IVE: Institute of Vocational Education
Who Should Attend?
Each year, we are pleased to have attendees from all around the Asia region and beyond.  This includes individuals from both government and private sectors – tree and forest consultants, landscape architects, city planners, environmental managers of the construction industry, forest researchers, arboriculture educators, landscapers, private business owners, arborists, urban foresters, and government staff of various levels and countries.
If trees are a part of your passion or career, you should attend.
What to Expect at the Summit
The summit will primarily consist of conference hall lectures.  Lectures will be supported by powerpoint slides.  There will also be plenty of time for question and answer as well as networking opportunities during breaks.  For field training, groups may go outside to view and discuss trees on the campus.  IVE has a few hundred trees, so the lecturers will have many real examples for discussion and interaction.
IASHK Mission
Like a tree, Arboriculture methods are constantly changing and growing.  Researchers, educators, and experts from around the world work together to test new theories and new practices and to disseminate these new findings to arborists around the world.  The purpose of the International Arboriculture Summit is to help present those new practices and technology together with the core fundamentals of arboriculture to the tree care professionals within our region, so that we all may grow together in our own understanding and practice.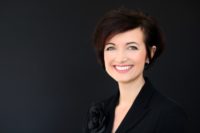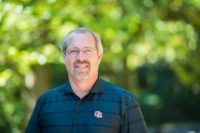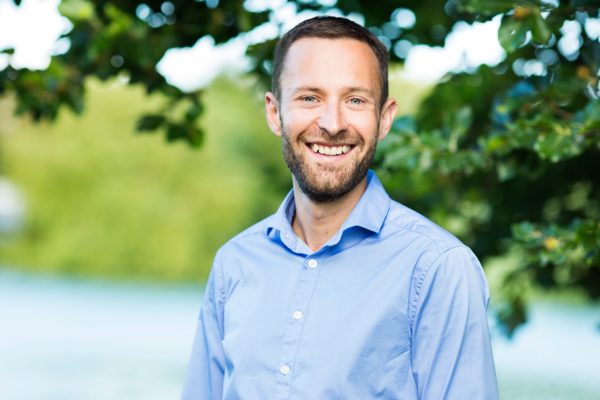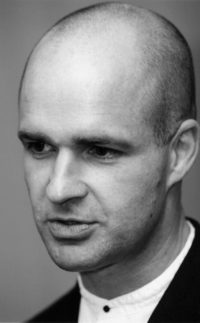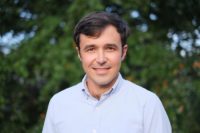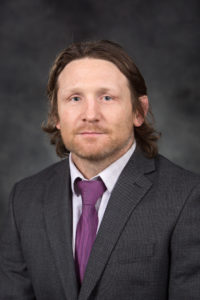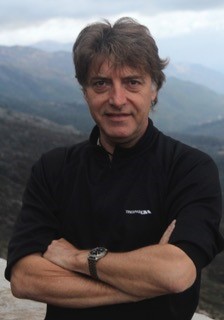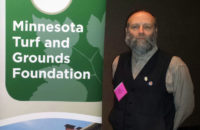 Summit Educators
Daniel Burcham
PhD candidate at the University of Massachusetts Amherst; Centre for Urban Greenery and Ecology, National Parks Board (NParks), Singapore
David Evans
Director of VALID, United Kingdom
Sharon Hosegood
Director of Sharon Hosegood Associates Ltd. United Kingdom
Johan Östberg
Department of Landscape Architecture, Planning and Management, Swedish University of Agricultural Sciences, Sweden
Paul Ries
Director of the Graduate Certificate in Urban Forestry Program at Oregon State University
Ian Robinson
Senior Arboriculture Consultant, Hong Kong
Bryant Scharenbroch
Assistant Professor of Soil Science at University of Wisconsin – Stevens Point and a Research Fellow of the Morton Arboretum
Kent Honl
Arborologist – Board Certified Master Arborist and Adjunct Faculty in Arboriculture at Hennepin Technical College
Summit Schedule
The details of this year's schedule will be announced within the next few days.
Wednesday, November 14
Thursday, November 15
Friday, November 16
Summit Venue
This year the summit will be held at the Institute of Vocational Education (IVE) Sha Tin Campus.  IVE's campus has many of trees for field study and will be utilized by the summit educators during the event.
This venue is conveniently located near the Fo Tan MTR station.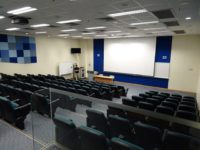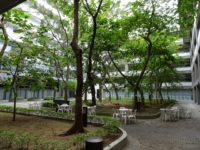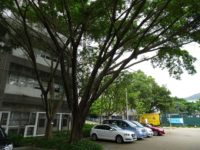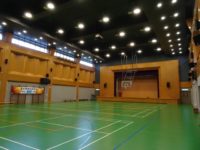 Transportation Options
By Car
During the summit, IVE will be holding their regular daily classes.  Therefore, parking is not available at IVE during the conference.  For those who are driving to the conference, parking is available nearby at the Wo Che Carpark.  This is a 10 minute walk from IVE.  Here is a google link for this car park.
By MTR
The Fo Tan MTR is the closest MTR station for the summit venue.
Walking Directions from the Fo Tan MTR Station
Walking Directions from the Fo Tan MTR Station
Hotels Nearby
For those attending from outside of Hong Kong, there are two hotels nearby to choose from.  Please contact the hotels directly for pricing and availability.
Directions from the Regal Riverside Hotel

Directions from the Courtyard Marriott

Register for Summit Attendance
Registration will open later this week.
Online Registration
During online registration, if you are entitled to a discount as a previous attendee, a member of HKILA or ISA, or a full-time student, at checkout, use the following "coupon code" to receive the related discount.  This code should be entered where you see: "Have a Promotional Code?" on the checkout page.
Discount Codes for full 3 day attendance:
Previous Attendee's should enter "previous3"
HKILA or ISA Members should enter "member3"
Full-time Students at VTC, IVE, or THEI should enter "vtc3"
VTC Faculty & Faculty or Full-time Students at other universities should enter "university3"
Discount Codes for 1 day attendance:
Previous Attendee's should enter "previous1"
HKILA or ISA Members should enter "member1"
Full-time Students at VTC, IVE, or THEI should enter "vtc1"
VTC Faculty & Faculty or Full-time Students at other universities should enter "university1"
A friendly reminder that you must submit documentary proof of the above by email after you have completed online registration and payment.
Sponsorship Opportunities
Sponsorship opportunities are currently available! Please have a look at the options and contact us right away to reserve your choice.
Please contact us with your interest: [email protected]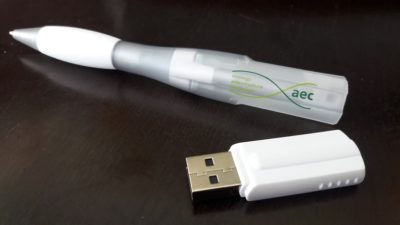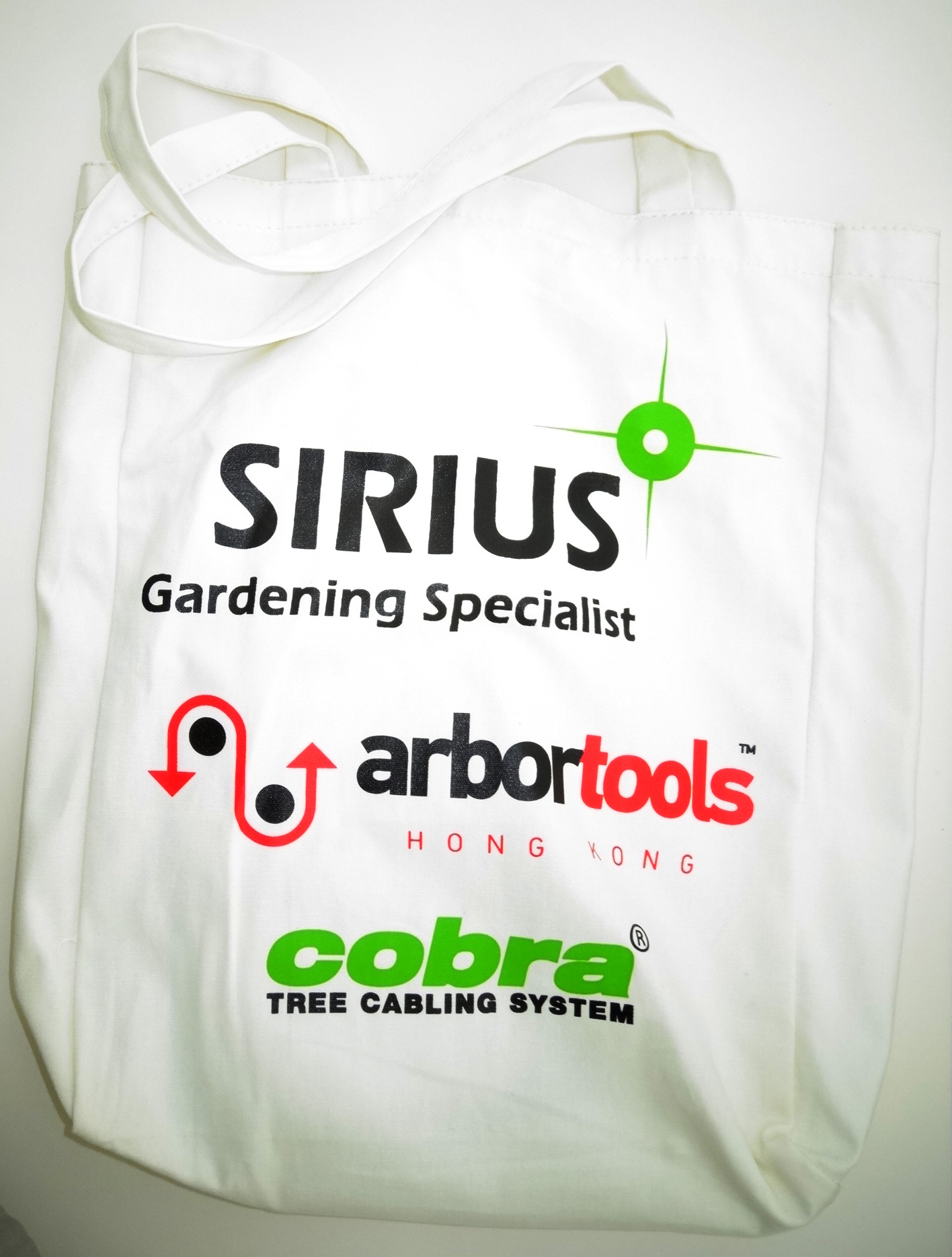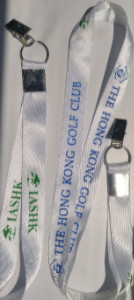 Call for Papers
Currently the call for papers is now closed as we have filled the lecture time for the three day conference. We do encourage you to contact us for our spring program or next year's November program. [email protected]
Summit Lecture Abstracts
RIES:
Beyond Point and Shoot: Using Photography to Communicate Trees – Many of us carry around a relatively powerful camera right in our pockets in the form of a smart phone. Photographic images are a powerful way to communicate the value and benefits of trees to other people. This presentation covers composition tips and techniques to take better photographs and use them to educate people about trees, urban forestry, and arboriculture. 30 min
Communicating, Connecting, and Engaging People with Urban Forestry – How can we make trees matter more to other people? This presentation explores how people perceive urban forestry, and examines strategies that can help urban forestry professionals reach people more effectively. The main message is that we need to communicate with and not to people, connect them with the benefits and values of trees in a context that they can relate to, and ultimately engage them in raising the visibility and importance of urban forestry and trees. 55 min
Community Engagement as if Your Future Depended on it – Engaging other people to support the cause of trees is a critical ingredient in being a successful natural resource professional. This interactive session explores how we can think strategically about creating change – working together with others to advance the cause of trees and urban forestry. 45 min
Promoting Green Infrastructure Practices in Small Communities – this presentation discusses the challenges smaller communities face in applying landscape-level urban forestry and Green Infrastructure practices. The topic will include a discussion about improving the applicability of various green infrastructure planning practices for smaller communities. 30 min
Other presentations tailored to specific audiences or conference themes can be developed upon request, including various urban forestry, leadership, communications, and green infrastructure topics.
EVANS:
TREE RISK-BENEFIT ASSESSMENT & MANAGEMENT – Is it VALID? 40 min
Whether you're assessing or managing tree risk, VALID is an all new way to help you improve your decision making. VALID takes a 'best of both worlds' approach that works on the strengths and ditches the weaknesses when measuring risk with words (qualitative) or numbers (quantitative).  This presentation will show you why VALID was put together, and how it was constructed with a maths professor who stress-tested it.
After laying down some key concepts about risk, we'll explore the all-important question.  What is an acceptable level of risk from trees which can be reasonably imposed because of the many benefits that trees provide?  Then move onto how we measure risk with believable outputs that are not too vague or too accurate, and account for uncertainty in our assessments.
Examples of how the user-friendly App walks assessors through the risk-benefit assessment will be illustrated.  And the clear and simple Tree Risk-Benefit Policy and Management Plans that can be adapted by anyone from a sprawling Municipality with tens of thousands of trees, to a Homeowner who has one tree in their backyard will be shared.
LIKELIHOOD OF FAILURE CLUB 40 min
Making decisions about the Likelihood of Failure is often the most subjective, uncertain, and challenging part of a tree risk assessment.
The VALID approach to estimating Likelihood of Failure considers: Vitality, Anatomy, Load, Identity, and Defect. It's a structured and easy to remember checklist of the factors that pull Likelihood of Failure decisions towards one of two defined 'benchmarks': a benchmark is where you have the highest confidence, lowest uncertainty, and will get the greatest consensus amongst arborists.  It's what you anchor your opinion to when making these tough decisions.
VALID helps you focus on what are the most important points to consider in tree failure.  It also enables you to quickly identify where differences of opinion may lie between you and other assessors so you can explore the reasons why.  And it leaves a record of your decision-making process.
This presentation will show you how VALID came about as a Likelihood of Failure assistant.  Some case studies will show you how VALID can help you estimate Likelihood of Failure.  And you will see what lessons have been learned from playing 'Likelihood of Failure Clubs' around the world.
OSTBERG:
PRUNING IN SCANDINAVIA – new, and sometime provocative, development 30-45 min?
By implementing correct pruning, the tree's character can be preserved or developed according to desired goals. Pruning can also affect the tree's risk level, its shape and, in the long run, its condition. Incorrectly pruning can in the same way destroy the character of the trees, create a tree of trees and, in the long run, also reduce the life of the trees. For these reasons, pruning is something that all people who work with trees should have an understanding for.
Pruning in Scandinavia has the last ten years developed to also incorporate the biological and historical values of urban trees, shifting the way that arborist prune trees. They now, in special circumstances, use topping and intentional damage to preserved or enhance the biological values of trees.
This new way of working with trees has resulted in a project funder by the European Union with the goal of creating a new certification system for arborists called VETcert. The VETcert partnership consists of 10 organisations from across Europe, both NGO's, training and certification centres, arboricultural associations from different countries, private companies and a public body.
URBAN TREE INVENTORIES – An International Perspective 55 min
Tree inventories are one of the most fundamental aspects in planning and progressing the urban forest. Inventories are therefore being conducted all over the world. Despite this, many inventories consist of too much information, there is no plan on how to keep the inventories up to date and a vast amount of inventories are not being used to their full potential.
This presentation will have an international outlook, emphasizing how inventories can be conducted in a systematic way using the most meaningful parameters and how inventories are being used around the world. This includes how inventories are being used as a tool in community outreach, species selection and planning of the urban forest. The presentation is based on the research being conducted at the Swedish University of Agricultural Sciences in cooperation with international partners from e.g. New Zealand, Denmark and the United States, and the presenters' experience of inventorying large tress stands with multiple values e.g. cultural, social, biological and economic.
After the presentation, listeners will have knowledge of a wide range of uses for their urban tree inventories and how these can be conducted and updated in a systematic way.
ECOSYSTEM DISSERVICES – A way Towards Acceptance for Urban Forestry 30 min
It is widely recognized that urban trees contribute a vast amount of ecosystem services, but to justify and fully utilize urban ecosystems, it is important to also assess and minimize the disservices they provide.
This study aimed to provide new insights to help understand urban ecosystem disservices. The central research question was whether complaints recorded at municipal park departments could be used as a source of knowledge on urban tree disservices. Data were collected during a full year from the three largest municipalities in Sweden (Stockholm, Gothenburg and Malmö). This large amount of data gave valuable information in terms of ecosystem disservices, but also perceived disservices reported by urban dwellers.
The information obtained from complaints records was combined with results from a newly conducted, large-scale survey of all Swedish municipalities assessing ecosystem disservices and reasons why trees are cut down in Swedish municipalities. Together, these two sources of information provided in-depth knowledge on how ecosystem disservices, and perceived ecosystem disservices, shape the way that urban forestry is managed and governed.
The results showed that many of the disservices reported could have been avoided by correct planning, management and communication. With correct information on ecosystem disservices, it is therefore possible to guide management, planning and information so that the amount of disservices is reduced and public perceptions of urban forestry are improved.
ETERNAL GREEN-SPACES. The future of cemeteries in the United States and Sweden? 55 min
As cities around the world increase in density, and the number of urban green spaces decrease, the role of cemeteries as urban parks is becoming increasingly important. As historical and cultural landscapes they hold shared social meanings for the public. The ownership and management of cemeteries, as well  as social and economic factors influence the use and maintenance of cemeteries. Many cemeteries have important cultural values as historical landscapes that were designed by famous landscape architects over time, and through their long history can illustrate changing views about landscape design and management.
Cemeteries are important green spaces in urban environments, offering nature's benefits to city residents. Their natural resources offer aesthetic and sustainable environmental benefits to urban areas. Cemeteries are also an important contributor to species diversity.  They contain old trees in cemeteries that have especially high biological and ecological values by hosting insects, fungi, birds and lichens.
This study explores the historical and modern use of cemeteries as urban green spaces in both the United States and Sweden.  Using a cross-cultural lens, this research compares the differences in the governance of cemeteries to explore cultural meanings and current social uses, and explores historical as well as modern landscape management practices and techniques.  Comparisons are made between cemeteries in the United States and Europe, with a focus on the Nordic context and the North-East region of America. Case studies of the Green-Wood cemetery in Brooklyn, New York in the United States and the Östra kyrkogården (Eastern cemetery) in Malmö, Sweden are compared. The case studies include site observations, photography, event participation and semi-structured interviews with managers in both cemeteries.
There have been many shifts in the use of the Swedish cemeteries and in the case study of Östra kyrkogården there has been a change in the last ten years where it is now more socially accepted to exercise in the cemetery.  Green-Wood Cemetery is working today to be considered a public garden by expanding their public programming and botanical amenities as well as their role in environmental advocacy through projects and collaborations, both scientific and educational. This study documents these changes over time, and the visions that both Green-Wood cemetery and the Östra kyrkogården have for their future.  In doing so, this research also identifies changing trends in the use of cemeteries in modern urban environments found in the United States and Sweden.
HOSEGOOD:
TREES AND CONSTRUCTION 55 min
This will involve discussing practical techniques for protecting trees on construction sites; from tree surgery, tree protection, and specialist methods where space is tight (such as installing foundations/hard surfaces/services).  I will also discuss the importance of site supervision and the benefits of developing good relationships with the site team, and methods of dealing with problems on construction sites.
TREE ROOT INVESTIGATIONS Using an Air Spade, Excavations and the Use of
Treeradar 45 min
I can discuss the pros and cons of each method with case studies, and how the use of TreeRadar has enabled further thinking about how far our veteran trees root.  I can discuss the science and the commercial application of each method.
TOWARDS A NEW DIMENSION 30-45 min?
This takes our role as arboriculturists to the next level.  Here I will discuss how development can engage with the community to create vibrant living landscapes.  I have case studies, including a 10 year project of managing a woodland in a hospital using volunteers.
SCHARENBROCH:
Introduction to Soil Science for Urban Tree Care (55 min)
This presentation will introduce, or reintroduce, the basic concepts of soil science that are important for the care and management of urban trees. The presentation will review the basic morphological features used to describe soils. This presentation will discuss what this basic morphology can tell us about the condition of soils as a growing medium for urban trees.
Assessing Soil Quality for Urban Trees (55 min)
This presentation will cover the details of a proper soil assessment for urban management. The presentation will discuss: 1. why soil assessment is necessary, 2. who should assess soils, 3. where to conduct soil assessments, 4. when to perform soil assessment, and lastly 5. how to perform a proper soil assessment. This presentation will highlight typical urban soil problems and how we can detect them with an urban soil assessment.
Soil Management for Urban Trees, Part 1 – Physical Properties (55 min)
The health of urban trees is often directly related to the quality of urban soils. Now that we have covered the basics on how to detect typical urban soil problems with soil assessment, we discuss some management options for these problems. This presentation will highlight some key urban soil challenges and present management options for addressing these issues. Part 1 of this presentation will focus on improving the soil's physical condition. Specifically, the presentation will address soil compaction. The presentation will feature research findings directed at solving compaction. The presentation will discuss practical solutions for improving the soil's physical condition for optimizing urban tree health.
Soil Management for Urban Trees, Part 2 – Chemical and Biological Properties (55 min)
The health of urban trees is often directly related to the quality of urban soils. Now that we have covered the basics on how to detect typical urban soil problems with soil assessment, we discuss some management options for these problems. This presentation will highlight some key urban soil challenges and present management options for addressing these issues. Part 2 of this presentation will focus on improving the soil's chemical and biological condition. Specifically, the presentation will address soil alkalinity, salinity, nutrients, and microbial populations. The presentation will feature research findings directed at managing soil biochemical properties. The presentation will discuss practical solutions for improving the soil's chemical and biological condition for optimizing urban tree health.
BURCHAM:
Pruning methods to reduce the likelihood of failure for large tropical trees (55min)
If a tree presents unacceptable risk, pruning is commonly used to (presumably) reduce the likelihood of failure by improving branch structure, reducing leaf area, or increasing crown porosity. Currently, tree pruning is mostly guided by industry standards, cultural practice, and aesthetic norms; existing research offers mixed evidence on the usefulness of pruning types and severities towards risk reduction. To address these limitations, a study was performed to measure changes to the mechanical properties and wind-induced movement of large, mature tropical trees growing in Singapore. Specifically, the study examined 11 Senegal mahoganies (Khaya senegalensis) and nine rain trees (Samanea saman) with an average trunk diameter (DBH) of 72 cm and 92 cm, respectively. In the study, consistent, statistically significant, and practically meaningful differences were observed between pruning types over a wide range of severities; and these results will be presented and discussed to help arborists mitigate the risk of tree failures while preserving valuable benefits of large, mature trees.
Estimating the load-bearing capacity of trees from sonic tomograms (55min)
The measurement and assessment of internal defects is an important part of tree risk assessment. Although there are several methods for estimating the reduced load-bearing capacity of trees with internal defects, the advancement of these methods has not kept pace with improvements to methods used to measure the internal condition of trees, such as sonic tomography. In a recent study, a new method to estimate the reduced load-bearing capacity of tree parts from sonic tomograms was introduced and compared to six existing methods. The results show that sonic tomography can be used to examine reductions in the load-bearing capacity of tree parts with internal defects, but the limitations of sonic tomography and mathematical methods must be considered. These results will be presented and discussed to help arborists better interpret sonic tomograms while assessing tree failure risk. In addition, some new techniques for improving the accuracy of sonic tomograms with an improved measurement of trunk geometry will be presented.