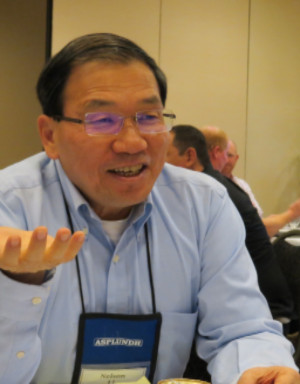 has an MBA degree from Wharton School and was a career manager for manufacturing industries until 55 years old. He served as the regional President of Formica Corporation in Asia, President of Coretronic Corporation, a US$2 billion listed company, and the Chairman of Optoma Corporation, a projector company in Taiwan for many years.
He retired at 55 years old and formed Treegarden Corporation in 2008 to be specialized in landscape greenery projects. Treegarden completed several famous greenery projects in Taiwan such as the pitched green roof of Hsinjuang Gym (A pitched green roof of 6,600 square meters) in Taipei; The Decathlon Sports Mall in Taichung (1,800 square meters of green wall); Then Green Balcony Garden in Hsinchu (Like Mountain, 22 stories) and Green Balcony Garden project
in Taichung (Treasure Dragon Corp.).
With his international exposure in the IT industry, he introduced the international flavour into the Taiwan landscape industry through new construction methods and products and helped changing the quality standard of
the industry. He thrusted to introduce the Certified Arborist practice into Taiwan by forming the Taiwan Arboriculture Society and started the Certified Arborist Exam in Taiwan in 2015 then allow for Chinese language
Exam.
Treegarden completed a few high profile tree projects including the Uprooted tree restoration in Taidong, Protected tree transplant in Taipei, and greening project in a high end villa. He wishes to enhance the greenery
quality both on the ground and on the skyrise buildings.
Nelson wrote two books on greenroofs: "I love Greenroofs" and "Garden in the Sky" which were published by the city Publishers in Taiwan. As the President of Taiwan Arboriculture Society, He translated and published the
Chinese "Certified Arborist Study Guide" for Certified Arborist Exam in Taiwan. TWAS will publish the Chinese version of the "Tree Climbers' Guide" in November this year.