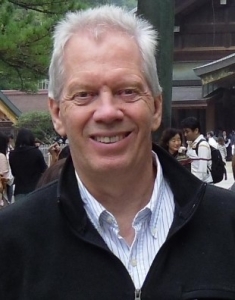 obtained B.S. and M.S degrees from University of Arizona in hydrology and soil science and a Ph.D. in soil science with a civil engineering minor from The Pennsylvania State University. He had a long research career with U.S. Department of Agriculture, including Agriculture Research Service and Forest Service Research in West Virginia, Oregon, coastal Alaska, and Utah. In 1995, he moved to Europe for three years as a Senior Researcher with the Geological Survey of Denmark and Greenland and was then seconded to lead the International Geosphere-Biosphere Programme (IGBP) on Land-Ocean Interactions in the Coastal Zone in Holland. Thereafter he was appointed Endowed Chair of Forest Hydrology at University of British Columbia, and later Professor of Physical Geography at National University of Singapore.
From 2002 to 2008 Professor Sidle was Head of the Slope Conservation Section at Kyoto University's Disaster Prevention Research Institute where he led an active team of researchers studying sediment hazards and hydrology. From November 2008 to February 2011 he was Professor of Geology and the initial Director of the Environmental Science Program at Appalachian State University in North Carolina, USA. He then was appointed Director of EPA's Ecosystem Research Division in Athens, Georgia. In late August 2014, Professor Sidle will move to the University of the Sunshine Coast where he will be join the Sustainability Research Centre. His research addresses both fundamental and applied aspects of various catchment processes and hazards, including landslides, surface erosion, stormflow generation, and hydrogeomorphic processes.
These studies have been conducted throughout Japan and Southeast Asia in recent years. He is senior author or co-author on more than 400 scientific papers and abstracts including 160 publications in international refereed journals. Additionally he has written two authoritative books on landslides, the most recent published in 2006 by American Geophysical Union, and has edited or co-edited three other books.
IASHK 2014: Hanging by Their Roots, Trees and Slippery Slopes