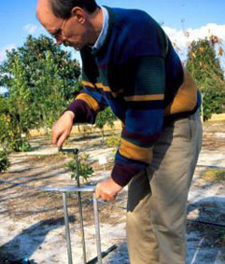 Dr. Watson is the Senior Research Scientist at Morton Arboretum in Illinois.
Research Interests
The central interest of the urban tree root research program is to understand how to keep trees healthy in urban landscapes by maintaining a healthy balance between the crown and the root system. Trees must cope with challenges in urban soil environments that are not encountered in nature. We need to know how root systems react to these, and how to minimize them. Two approaches are used: attempting to direct more of the tree's resources towards root growth; and improving the soil environment so that it is more favorable.
Accomplishments
Joined the Morton Arboretum research staff in 1986; Adjunct Professor, University of Illinois Department of Natural Resources and Environmental Sciences; Past President of International Society of Arboriculture, the Arboricultural Research and Education Academy, and the Illinois Arborist Association; Chair, Green Industry Working Group on Structural Root Depth 2003-present. He won the award for Arboricultural Research and Richard W. Harris Author's Citation Award from the International Society of Arboriculture. Editorial Board Member, Journal of Environmental Horticulture, and Urban Forestry & Urban Greening, Arboriculture and Urban Forestry.
IASHK 2011: Balancing Trees & Urban Spaces
Published Research Papers
    Transplant Shock: Severity dependent on tree size and restoration of root-shoot balance
    Distinguishing Between Root System Architecture Changes and Planting Too Deep
    The Landscape Below Ground III Researcher Summit White Paper
    Tree Transplanting and Establishment
    When the Roots Go Round and Round
    The Impact of Soil Compaction on Soil Aeration and Fine Root Density of Quercus palustris
    The Effects of Soil pH, Root Density and Tree Growth Regulator Treatments on Pin Oak Chlorosis
    Soil Replacement: Long-Term Results
    The Effects of Root Loss and Compensatory Pruning
    Tree Root System Enhancement with Paclobutrazol
    Getting the Roots Right
    Avoiding Excessive Soil over the Roots System of Trees: A Best Management Practice
    Girdling Root Formation, In Landscape Trees
    Transplanting Trees: Preparing the Site and the Tree
    Transplanting Trees: Moving, Storage and Planting
    Transplanting Trees: Establishment and Maintenance
Tree Transplanting and EstablishmentBooks
Watson, G. (Ed.). 2007. Trees and Planting: Getting the Roots Right Proceedings Deep Tree Roots
Watson, G.W. and E.B. Himelick. 2005. Best Management Practices: Tree Planting.
Watson, G. W. and E.B. Himelick.  1997. Principles and Practice of Transplanting Trees and Shrubs.
Watson, G. W. and Dan Neely (Eds.) 1995. Trees & Building Sites: Proceedings of an International Conference Held in the Interest of  Developing A Scientific Basis for Managing Trees in Proximity to Buildings.
Watson, G. W. and D. Neely (Eds.) 1994. The Landscape Below Ground: Proceedings of the International Workshop on Tree Root Development in Urban Soils.
Neely, D. and G. Watson (eds). 1998. Landscape Below Ground II.