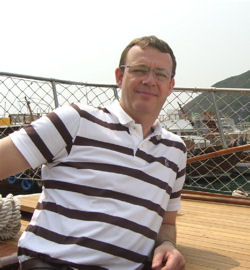 Stuart Morton joined BioCycle as Technology Manager and Company Entomologist in 1994 to take up the role of Operations Manager after training with Swiss pest control professionals. In 1995 Stuart began the Termite Consulting & Services Division with BioCycle. He has studied termite biology and behaviour extensively and has a vast experience in structural infestations by subterranean termites and maintains on-going studies of the species Coptotermes Formosanus, the most commonly found structurally damaging species in Hong Kong, Taiwan and Southern China, and amongst the most aggressive worldwide.
Stuart has a wide knowledge of urban pests and has attended numerous courses and seminars in the United States as well as conducting research work with the New Orleans Mosquito & Termite Control Board.
With his expertise centered on termite foraging behavior Stuart is considered one of the leading experts in Hong Kong on the use of termite baiting systems and has conducted several field trials for Dow AgroSciences and their Sentricon Colony Elimination System.
At BioCycle Stuart's work involves developing treatment techniques and control strategies as well as heading up research and development for all products and equipment used within the company.