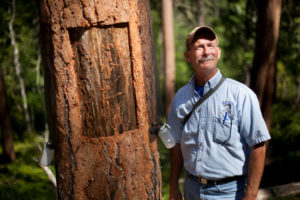 Dr. John Ball, University of South Dakota
Dr. Ball is currently a Professor of Forestry at South Dakota State University in Brookings, SD with a split appointment in teaching, extension and research. He also serves as a campus arborist for the University and as the Forest Health Specialist for the South Dakota Department of Agriculture. One of his research interest is tree worker safety.
Dr. Ball previously served as manager for Arrowhead Tree, a tree care company in Duluth, Minnesota and the director of technical service at Carpenter-Costin, a large tree care and landscape planning company operating along the North Shore area of Boston.
Dr. Ball has a Ph.D. and M.S. in forestry from Michigan State University and a B.S. in forestry from Michigan Technological University. He currently serves as the Education Chair for the South Dakota Arborist Association and as a representative for the International Society of Arboriculture on the Z133 committee. Dr. Ball is also on the Safety Committee for the Tree Care Industry Association. He has served on the board for the Midwestern Chapter, once in the 1980s, again in the 1990s and just recently completed his third term.
IASHK 2008: Tree Pruning, Impacts of Wind Loading & Tree Assessment