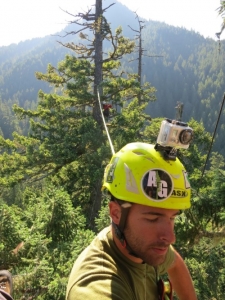 Koomjian has traveled far and wide applying professional arboricultural applications with scientists and professional  tree care firms. As lead expedition tree climber for field season in Parc National de Masoala in
Madagascar, September '13, his uties included rigging trees for arboreal observation of Red-Ruffed Lemurs, as well as evaluation and mapping of canopy habitat. Secondary duties included collection of tree and vine specimens for identification and preservation in herbaria collections."
Will served as the expedition tree climber for 2011 Wehea Forest Biodiversity Study, East Kalimantan, Indonesia, May-July '11. Sole tree climber for expedition that penetrated 20km into very remote, difficult terrain in Wehea forest to survey mammals. Results showed an incredible diversity of mammal species as well as the rediscovery of the Miller's Grizzled Langur, a species thought to be extinct: http://www.guardian.co.uk/environment/2012/jan/20/extinct-monkey-rediscovered-indonesia-jungle
Environmental survey tree climber with ABR Environmental Research and Services from August-November '11. Lead tree climber for a team tasked with inspecting potential Red Tree Vole nests in sites affected by PGE's Cascade Crossing project. Measurements, photographs and samples were taken of all found nests. while also including an evaluation of RTV habitat and identification of other arboreal wildlife and habitat.
Koomjian is co-founder of Ascending the Giants (www.ascendingthegiants.org), a 501c3 non-profit organization dedicated to documenting the largest trees of the Pacific Northwest and the world. He also is an Official Big Tree Coordinator for the Oregon Big Tree Registry.
Through his work with Asia Tree Preservation, Will feels he has gained extensive experience performing tree risk assessments and writing arborist reports for commercial and municipal clients. "I've clocked hundreds of hours using Arbortom® Sonic Tomography and Resistograph® units for wood analysis, and integrating these results to overall risk assessment works". Recently Will documented his special work for ATP accomplished for the Commonwealth War Graves Commission in preservation applications at Ambon, Indonesia.  He has also served as one of a few Climber Techs with ISA Tree Biomechanics Week, September '10, and August '13 with such duties as rigging trees, installing instruments and performing destructive testing on trees in a research arboretum.
Will started his formal education which is presently on hold as he travels the world, at Reed College from August '00 to December '01 and then Clackamas Community College from January '04-March '05, studying horticulture, plant ID, plant propagation and arboriculture.